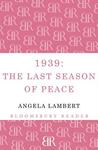 1939: The Last Season of Peace: The Last Season of Peace
by
Angela Lambert
My rating:
5 of 5 stars
Having recently read Anne deCourcy's 1939: THE LAST SEASON, it was hard for me to imagine that another book with an almost identical title would have anything different to offer.
Lambert's work, however, takes advantage of its author's timeliness in finding these former debutantes back in the 1980s, when the ladies were still up and about in their late 60s, and interviews them extensively on their experiences and their lives. Where deCourcy relies on newspaper articles to interweave the history with the social narrative, Lambert gives us the ladies' own voices, and that makes the book.
They are charming, witty, self-possessed, and absolutely frank in discussing their families, friends, and doings in that summer of 1939. Some knew all about the coming war while others astonishingly were so sheltered as to know nothing whatever. To a woman, they remembered where they were when the war was announced. Unlike deCourcy, Lambert takes us a bit further than 1939 to tell us that part of their upbringing was to volunteer and to join, so that the volunteer services were very full of upper-class young women by the time the war started.
The book is packed with vignettes of that time, beautiful descriptions, conversations, and people from a time that is gone forever. An appendix lists the slang of the time so that you can competently speak with a 1939 debutante.
If you'd like to hear from some of the men and women in this book and of that summer, there is a fantastic documentary on them here:
https://www.youtube.com/watch?v=ISg0_...
Its charm is best summarized in the final words, quoting one of the debs speaking to her granddaughter: "You know, Sophie, I expect you're right about us. We were ignorant and selfish and spoilt; we saw nothing wrong in idleness. But I tell you this. We did our trivial things in the *most* satisfactory way!"
View all my reviews